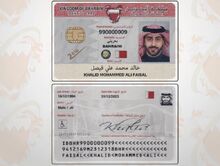 The بطاقة التعريف (bitaqat altaerif) is the official identity card of the kingdom of Bahrain for Bahraini citizens.
It is compulsory for many things such as financial transactions or geting a Bahraini passport.[1][2]
Information shown
[
]
The bitaqat altaerif has personal information such as:
Name in arabic
Name in transliteration
Nationality (Bahraini (Bahraini ID card is only for citizens)
Birthdate
Expiration date
Signatur
Photo of the person
Also advises if the person has a Disability such as physical, mental (Schizophrenia, bipolar disorder , etc), intellectual (Autism, Down syndome, etc), Visual, auditory, etc.
References
[
]